Ms Fisher's Modern Murder Mysteries
Year: 2019
Seasons: 1
Episodes: 4
Subtitles: 16
Downloads: 360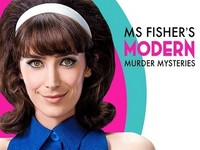 Set in 1964, gorgeously reckless Peregrine Fisher inherits a windfall when the famous aunt she never knew goes missing over the highlands of New Guinea. Peregrine must prove herself brilliant enough to become a world class private detective in her own right.
Geraldine Hakewill
Joel Jackson
Catherine McClements
Louisa Mignone
Greg Stone
Ms Fisher's Modern Murder Mysteries S01E01 - 'Just Murdered'
Date
Down.
Rating
English subtitles