Seasons: 2
Episodes: 20
Subtitles: 103
Downloads: 3619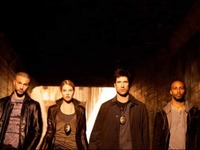 McDermott stars as Carter Shaw, the head of a crack undercover team of police officers who are so covert, many of their own colleagues don't even know they are involved. Shaw is a deeply wounded character, having lost his wife and much of his former life as he struggles to bring down bad guys through complex undercover assignments. His team includes a recently married cop (Hardwick) who struggles with personal relationships he has developed while undercover; a shoot-from-the-hip officer (Marshall-Green) whose activities make fellow team members wonder if he has gone over to the bad side; and a green patrol cop brought in because of her excellent skill in lying and a shady past (Aycox).
Dylan McDermott
Omari Hardwick
Logan Marshall-Green
Nicki Aycox
Dark Blue S02E02 - 'Liar's Poker'
Date
Down.
Rating
English subtitles
French subtitles
Portugese(br) subtitles
Russian subtitles
Turkish subtitles