Seasons: 1
Episodes: 2
Subtitles: 2
Downloads: 50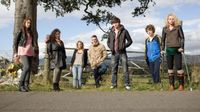 The Crash is a drama series which follows the story of a car crash involving a group of friends. After Kate returns from university for her Christmas break, her boyfriend Tom and friends Rachel, Ethan, Ashley, Brian and Leah head out for a night on the tiles. The young adults pile into two cars, but a fatal accident on the way devastates their families and the survivors, and leaves questions about who is responsible.
Brian McCardie
Cathy Sara
Christopher Colquhoun
Darcy Isa
Finlay Welsh
Gerry McLaughlin
The Crash S01E01 - 'Episode 1'
Date
Down.
Rating
English subtitles
09.03.13 10:39

28

The Crash S01E01 HDTV.RiVER
09.03.13 10:39

22

The Crash S01E01 720p.HDTV.TLA