Seasons: 1
Episodes: 6
Subtitles: 1
Downloads: 14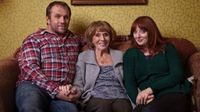 Feeling sorry for the homeless Eileen invites the ragged Dave home for a bath,a bed for the night and some of her late husband's clothes. Paula is incensed and feels Eileen is being taken for a ride. However when Pete's children Etahan and Melissa 'kidnap' the toy rabbit given to Paula's son Liam to cure his fur phobia it is Dave to proves to be the hero of the hour. Unfortunately,through no fault of his own,he is also not what he seems to be.
Sue Johnston
Dean Andrews
William Ash
Elizabeth Berrington
Julie Graham
Connor Dempsey
Being Eileen S01E05 - 'DIY'
Date
Down.
Rating
English subtitles
10.03.13 15:04

14

Being Eileen S01E05 TLA