Seasons: 1
Episodes: 10
Subtitles: 10
Downloads: 13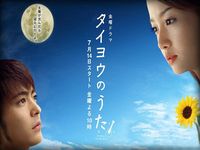 Title: Taiyo no Uta Title in Japanese: タイヨウのうた Title in English: Song of the Sun | A Song to the Sun Título en Español: Una Canción para el Sol Genre: Romance, Human drama Episodes: 10 Broadcast period: 2006-Jul-14 to 2006-Sep-15 Synopsis in English: While working at a seaside inn with his high school buddies, Fujishiro Koji meets Kaoru Amane, a street musician. Kaoru is suffering from an incurable disease called XP (xeroderma pigmentosum), and can't be exposed to the sun. Under the sun, the two would never have met. Still, destiny brings the two together. Since the day he suddenly lost his job, Koji has lost sight of his dreams. But when he meets Kaoru, who is making positive efforts to become a singer, Koji regains his long-forgotten passion for music. Sinopsis en Español: Mientras comienza a trabajar en su nuevo empleo de la playa con sus antiguos compañeros del instituto Kouji Fujishiro, (Yamada Takayuki), conoce a Kaoru Amane, (Sawajiri Erika), una cantante nocturna que tiene como escenario un parque. Kaoru sufre una enfermedad incurable llamada XP (xeroderma pigmentoso),y no se puede exponer a la luz del sol, por lo que bajo sus rayos nunca podrán encontrarse. Sin embargo el destino de algún modo consigue juntarlos. Desde el día en que repentinamente perdió su antiguo empleo Kouji perdió junto con él toda visión de sus ansias y sueños. Pero al conocer a Kaoru, que hace esfuerzos extraordinarios para conseguir llegar a ser una cantante reconocida y respetada, Kouji comienza a recuperar su antigua pasión olvidada por la música.
Yamada Takayuki as Fujishiro Koji
Sawajiri Erika as Amane Kaoru
Matsushita Nao as Tachibana Asami
Tanaka Kei as Onishi Yuta
Sato Megumi as Matsumae Misaki
Hamada Gaku as Kato Haruo
Kawamura Yosuke as Tatsunami Ryusuke
Hara Fumina as Reisa
Kobayashi Mao as Miura Yuko
Becky as Emily
Kaname Jun as Kudo Yohei
Kuroda Chieko as Amane Yuki
Yamamoto Kei as Enokido Shinichi
Katsumura Masanobu as Amane Ken
Takenaka Naoto as Miura Osamu
Taiyou no Uta S01E03 - 'Episode 3'
Date
Down.
Rating
Spanish subtitles