Seasons: 1
Episodes: 3
Subtitles: 6
Downloads: 134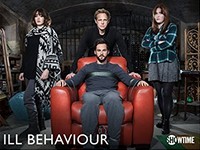 When Charlie is diagnosed with non-Hodgkin's lymphoma, the prognosis is good. However, when Charlie spurns chemotherapy in favour of a more natural, alternative treatment his friends take drastic action.
Chris Geere
Tom Riley
Jessica Regan
Lizzy Caplan
Christina Chong
John Gordon Sinclair
Ill Behaviour S01E03 - 'Episode 3'
Date
Down.
Rating
English subtitles
27.07.17 06:41

22

Ill Behaviour S01E03 Web-DL
27.07.17 06:42

17

Ill Behaviour S01E03 WEB.WaLMaRT