Seasons: 1
Episodes: 6
Subtitles: 12
Downloads: 110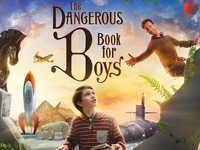 The McKenna family must cope with the passing of its much-loved patriarch, Patrick. Hope appears in the form of a book called The Dangerous Book for Boys that Patrick created for his three sons. It becomes a how-to guide that inspires fantasies in his youngest son, Wyatt, enabling him to reconnect with his father and learn lessons that help him navigate real life.
Chris Diamantopoulos
Gabriel Bateman
Drew Powell
Kyan Zielinski
Erinn Hayes
Swoosie Kurtz
The Dangerous Book for Boys S01E05 - 'How to Talk to Girls'
Date
Down.
Rating
English subtitles
03.04.18 08:08

13

The Dangerous Book for Boys S01E05 WEBRip.ION10
03.04.18 08:08

1

The Dangerous Book for Boys S01E05 WEBRip.ION10