Seasons: 1
Episodes: 3
Subtitles: 10
Downloads: 174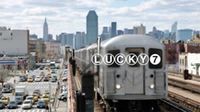 In Astoria, Queens, a group of seven gas station employees have been chipping into a lottery pool for months, never thinking they'd actually win. Money could solve problems for each of them: Matt could get his girlfriend and two kids out of his mother's house; Matt's brother, Nicky, an ex-con, could pay off a dangerous debt; Samira, a second-generation Pakistani immigrant, could afford to go to Juilliard; Denise, a plucky cashier, could focus on rebuilding her crumbling marriage; Leanne, a young mother, could help her daughter realize her dreams; Bob, the store's manager, could finally retire; and Antonio could give his wife and kids a whole new life.
Anastasia Phillips
Christine Evangelista
Isiah Whitlock, Jr.
Lorraine Bruce
Luis Antonio Ramos
Matthew Long
Stephen Louis Grush
Summer Bishil
Lucky 7 S01E02 - 'Inside Job'
Date
Down.
Rating
English subtitles