Seasons: 1
Episodes: 6
Subtitles: 12
Downloads: 102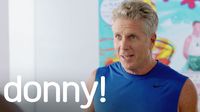 A satirical look at media, wealth and modern romance through the eyes of a fictionalized character based on real-life famed ad man, single dad, and TV personality Donny Deutsch.
Emily Tarver
Hailey Giles
Meera Rohit Kumbhani
Shannon Patricia O'Neill
Jessica Renee Russell
Tina Casciani
Donny! S01E01 - 'A Sext Ruined My Life'
Date
Down.
Rating
English subtitles
11.11.15 22:31

15

Donny! S01E01 HDTV.KILLERS
11.11.15 22:31

6

Donny! S01E01 HDTV.KILLERS